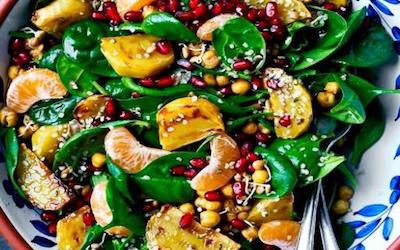 INGREDIENTS
1 diced beet
1 head of lettuce
1 cup of snap peas
1 tbsp. diced chives
1 orange cut into small segments
Salt and pepper, to taste
DRESSING
1 orange, juiced
1 tbsp. olive oil
1 tsp. balsamic vinegar
DIRECTIONS
Grate or dice beet and place in a large bowl.
Peel and cut one of the oranges in small segments.
Tear up the lettuce into small pieces.
Add the beet, oranges, lettuce, and chives into the bowl.
In a separate bowl, add the dressing ingredients and whisk.
Pour dressing over salad and mix well.
Add salt and pepper to taste.