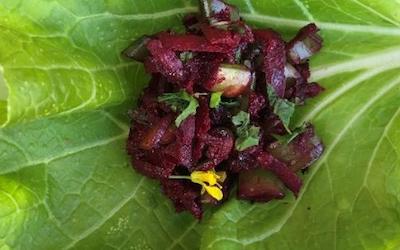 INGREDIENTS
1-2 beets
¼ cup of mizuna (or any other mustard green)
¼ cup of mint or shiso
1 cup of snap peas
1 head of cabbage leafs or any lettuce leaf
DRESSSING
1 tbsp. rice wine vinegar
1 tbsp. olive oil
1 tsp. honey
1 lime - juiced
1/8 tsp. ground ginger
Salt and pepper to taste
DIRECTIONS
Grate or dice beet into a bowl.
Cut peas into small pieces and add to bowl.
Dice the mizuna and mint leaves and add to bowl.
Create dressing by mixing all dressing ingredients together and whisk well.
Drizzle dressing over beet and pea mixture and mix well.
To assemble, place one spoonful of the beet and pea mixture on the center of the cabbage or lettuce leaf.
Roll up the leaf and enjoy!
Note: Try adding a 1 tsp. of soy sauce and a dash of sesame oil for a variation on the dressing.