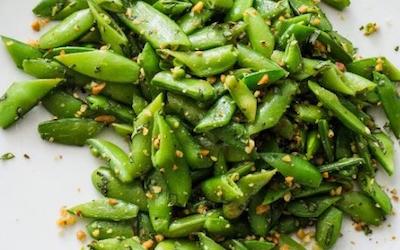 INGREDIENTS
1 cup of water
1 ½ cups of sugar snap peas, trimmed
½ teaspoon grated lemon rind
1 lemon, juiced
2 tbsp. sliced almonds, toasted
Salt and pepper, to taste
DIRECTIONS
Bring water to a boil in a saucepan.
Add the peas and cook until they're crisp-tender or about 2 minutes.
Drain the peas in a colander over a bowl, reserving 1 teaspoon of cooking water.
Combine the reserved water, peas, lemon and lemon rind.
Add in almonds, salt and pepper.
Toss gently.