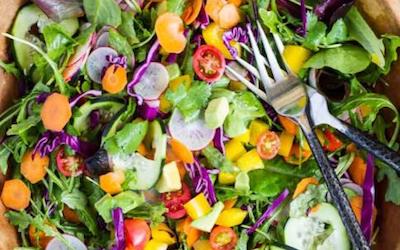 INGREDIENTS
2 carrots
1 watermelon radish
1 cup of parsley
1 cup of snap peas
½ cup of pea tendrils
3 cups kale or any leafy green
1 apple, diced
DRESSING
1 tbsp. apple cider vinegar
1 tbsp. olive oil
1 tsp. honey
Salt and pepper, to taste
DIRECTIONS
Chop leafy greens and parsley into small pieces.
Dice the apple.
Grate the watermelon radish.
Slice or grate the carrot.
Chop snap peas into large pieces.
Mix the leafy greens, parsley, apple, radish, carrot and peas in a large bowl.
Add dressing ingredients in a separate bowl and whisk.
Pour dressing over salad and mix well.