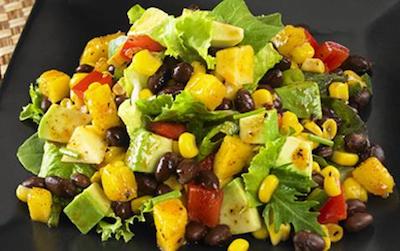 INGREDIENTS
Romaine lettuce
1 can black beans
1 can of corn
1 cup of cherry tomatoes
1 red pepper
¼ cup red onion
Multi grain tortilla chips
DRESSING
1 avocado
½ cup cilantro
½ cup of Greek yogurt
Juice of 2 limes
1 garlic clove, diced
Salt and pepper to taste
DIRECTIONS
To make dressing place all dressing ingredients in mini food processor and mix until smooth.
Cut or tear lettuce into bite size pieces.
Rinse and drain can of black beans and corn.
Cut cherry tomatoes in half.
Dice red pepper.
Dice red onion.
Mix the lettuce, black beans, corn, tomatoes, red pepper and red onion together.
Drizzle with avocado lime dressing.
Top with crushed tortilla chips.