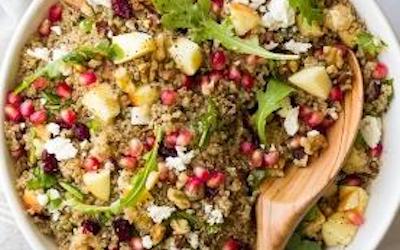 INGREDIENTS
1 cup quinoa
4 scallions, thinly sliced
½ cup chopped parsley leaves
½ cup chopped mint leaves
⅓ cup regular or golden raisins
1 apple diced
1 cup pomegranate seeds
2 tbsp. fresh lemon juice (approximately 1-2 lemons)
DIRECTIONS
Rinse 1 cup quinoa well with cool water in a fine mesh strainer until the water runs clear.
Add quinoa to 2 cups of water and bring to a boil. Reduce heat to a simmer and continue to cook covered for 12-15 minutes or until all water has been absorbed. Remove from heat and let stand for 5 minutes covered. Fluff with a fork and transfer quinoa to a bowl.
Add mint, parsley, raisins, apple and pomegranate seeds
Add lemon juice and mix well.