QUICK LINKS: Order of Events  |  Words of Thanks  |  Contribution & Successes  |  Thank You to Our BCHD Ohana
The Board of Directors and Staff of BCHD want to thank you all of our COVID-19 response volunteers and community partners.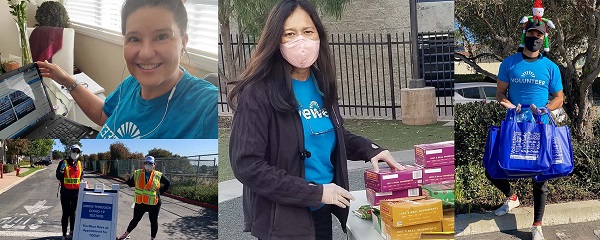 11:00am - 2:00pm

We have lots of fun actvities to enjoy at your leisure:

Enjoy a festive Hawaiian lunch
Add a memory of the past year to our MAHALO wall
Take a commemorative photo with your fellow volunteers and partners
Play fun lawn games and enjoy the sunshine!

11:30am
Words of Thanks from Tom Bakaly, BCHD CEO
12:00pm - 1:00pm
Based on the areas where you assisted with COVID-19 efforts, we will call you over to the photo station to take a group photo
2:00pm
Event Close and Thank You!
---
This past year was unprecedented; we could not have expected COVID-19 to dramatically change our lives for so long. When our community needed support to get us through this time, you were there.  You stepped forward and served others, calming their fears and supporting their health and wellbeing. You not only help the beach cities cope, but thrive through the pandemic.  
Today is a celebration of these efforts! You will see below all the amazing contributions you made and the results that followed. We could not have done this without you, and our community will be forever grateful for what you have accomplished. Thank you for being a part of our BCHD "ohana." We look forward to the next chapter and what is yet to come that we will conquer together! 
In health,   
Tom Bakaly, CEO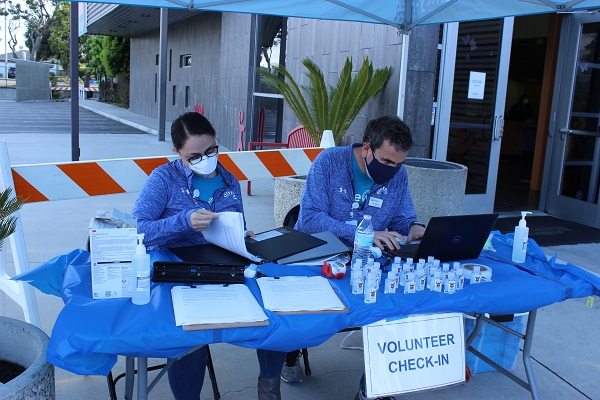 Please enjoy these videos that honor the COVID relief efforts we have made together:  
---
Your contributions to keep our community healthy during COVID was remarkable! Below are some of the results from all your hard work and dedication since the beginning of the COVID-19 pandemic: 
DATE
ACTIVITY
RESULTS TO DATE
01.29.2020
BCHD launched bchd.org/coronavirus page on the BCHD website in order to provide accurate and updated information around this new pandemic. The page would evolve and grow into 16 additional pages 
501,486 views have been received
03.16.2020
First Health & Fitness Operations virtual exercise video released via YouTube to encourage exercise from home.  
145 videos resulted in over 36,139 views
03.16.2020
BCHD's Community Services care management team began telephonic support for all current and newly referred care management clients to assess their overall well-being and provide social and emotional connection. Support Line volunteers also contributed to additional calls to clients. 

13,281 calls made to clients 

7,160 calls have been received 

03.25.2020
BCHD's Community Services continues the errand assistance program for community members needing support during COVID-19 
2,616 errands completed by staff and volunteers 
04.01.2020
BCHD's first CHF virtual live exercise classes and personal/small group training launch 
Virtual Class Attendees: 33,062  
04.03.2020

BCHD partners with the Los Angeles County Department of Health, Los Angeles County Fire Department and Providence Little Company of Mary to open a drive-thru COVID-19 testing site located at the South Bay Galleria. 

In June 2020, BCHD moves drive-thru COVID-19 testing site from South Bay Galleria to BCHD campus. Site is now staffed exclusively by BCHD staff. 

The testing site stayed open 401 days resulting in 155,684 tests completed 
04.28.2020
BCHD State of COVID-19 data dashboard launches, tracking cases, deaths, hospitalization, test positivity and more metrics and trends in the County and in the Beach Cities. 
Link to COVID 19 data dashboard 
05.06.2020
BCHD adopts Grants and Emergency Disaster Relief policy to support community with COVID-19 response and recovery. 
$36,723 funds and donations were raised 
05.06.2020
BCHD transitioned all Mindfulness Drop-in for Blue Zones Project (BZP) programming to a virtual platform and others followed (Blue Zones Project Social Hour, Blue Zones Project Cooking Show, Moais, Mental Health and Happiness workshops, and weekly Happiness Chats) 
all recorded programs available via the website 
05.14.2020
BCHD reactivated volunteer engagement by convening programs virtually (e.g., Restaurant Ambassadors, Power9 Committee, Livability Committee, CAPS). 
14,366 hours contributed to existing BCHD volunteer programs 
05.15.2020
BCHD's Community Services implemented the meal delivery program to assist those community members with prepackaged nutritious meals for the week. 
4,712 meals have been delivered 
06.01.2020
BCHD takes over call-back program for those who tested positive for COVID-19 at our testing site. 
8,800 calls made by volunteers 
06.02.2020
BCHD moves drive-thru COVID-19 testing site from South Bay Galleria to BCHD campus. Site is now staffed exclusively by BCHD staff. 
The testing site stayed open 401 days resulting in 155,684 tests completed 
06.30.2020

BCHD facilitates launch of Safe in the South Bay Business Pledge to invite local businesses to commit to doing their part to slow the spread of COVID-19 by following infection control best practices and building consumer confidence.

172 business pledges have been secured 
08.26.2020
BCHD's Youth Services, in partnership with Children's Hospital Los Angeles, developed a Symptom Assessment Tool to screen students and families for COVID-19 to allow for safe return to campus. 
6 school Districts throughout Los Angeles (Redondo Beach, Hermosa Beach, Hawthorne, Palos Verdes, Torrance, and Santa Monica-Malibu) utilized the tool for school reopening 
10.27.2020
BCHD Mobile Flu Strike Team administered flu vaccines to vulnerable, homebound individuals in the Beach Cities. BCHD also partnered with cities to deliver flu clinics. 
227 flu vaccines delivered to clients 
12.10.2020
BCHD launched COVID-19 Vaccine page on the BCHD website. 
27,395 views have been received
03.01.2021

BCHD announces a partnership with Los Angeles County Department of Health and 11 local school districts to administer Pfizer vaccines for teachers. This includes clinics at AdventurePlex and mobile clinics at participating schools. 

The AdventurePlex site opens to the public on April 17th. Mobile clinics were also established for homebound seniors. 

44 clinics operated and 15,590 doses were completed 

5,000+ doses were administered to educators 

6,029 doses were administered to 12-18 year olds 

61 clients were vaccinated in their homes through mobile clinic

03.24.2021
BCHD partners with South Bay Family Health Care to administer the Moderna vaccine at the 514 Prospect campus  
3,727 total doses were administered
04.01.2021
BCHD's Center for Health & Fitness slowly reopens in-person services and launches outdoor fitness area on May 1st. 

84 of members have returned 

1,599 attendees for classes 

06.21.2021
BCHD's AdventurePlex launches summer camp under strict COVID guidelines 
Camps sold out at 120 campers per week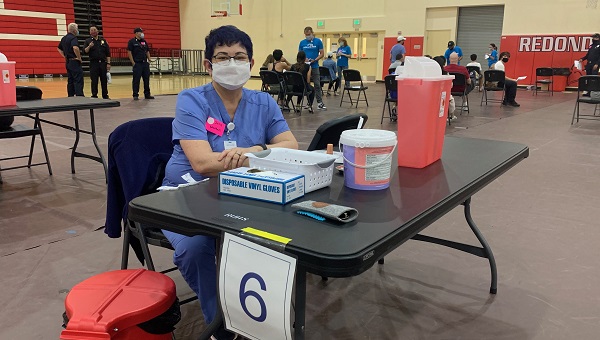 ---
A big THANK YOU to all the volunteers, community partners and staff that came together to serve all our COVID relief efforts! 
VOLUNTEER ROLE
HOURS DONATED
MARCH 2020 - JUNE 2021
AdventurePlex Volunteer
68.5
BCHD Administrative Volunteer
189.75
BCHD Advisory Committee (Community Health, Finance, Properties, Strategic Planning)
207.5
BCHD Board Member
1,164.5
BCHD Campus Greeter
123
BCHD CAPS Crocheting Program
2,455
BCHD Healthy Minds Initiative Volunteer
175
BCHD Student Internships 
3,653.67
Blue Zones Project Livability Committee Member 
212.5
Blue Zones Project Power 9 Committee 
552.5
Blue Zones Project Purpose Convener 
61.5
Blue Zones Project Restaurant Ambassador 
228.5
Center for Health & Fitness Front Desk 
202.5
Communications Event Ambassador & Volunteer 
64
Community Services Brain Buddy 
109.67
Community Services Conversation Companion 
551.15
Community Services Errand Volunteer 
1,222.65
Community Services Holiday Gift Bags 
244.78
Community Services MoveWell Volunteer 
100.35
Community Services Support Line 
163.75
COVID Care Navigator 
954.82
COVID Errand Assistance & Meal Delivery 
895.85
COVID Testing Site Volunteer 
2,995.1
COVID Vaccine Site Volunteer 
4,922.6
Volunteer Services Purpose Connector 
222.5
Volunteer Services Spotlight Writer 
12.25
Volunteer Services Volunteer Advisory Council 
243
Youth Services LiveWell Kids Garden Angel 
588.25
Youth Services Parent Advisory Council 
95
Youth Services School Health Assessment Volunteer 
12.5
Youth Services Student Mental Health Task Force 
230.25
Youth Services Walking School Bus Volunteer 
64
Youth Services Youth Advisory Council 
1,147.75
GRAND TOTAL
24,134.64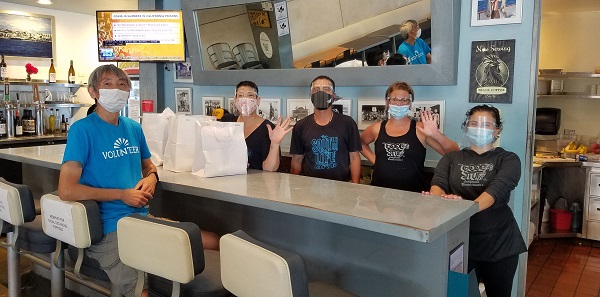 BCHD collaborated with the following partners throughout the COVID-19 emergency: 
Alert South Bay - Liaison for COVID-19 community surveys, regional Joint Information Center 
LA County OES Operational Area G - 28 agencies collaborating throughout the emergency 
California Coronavirus Testing Task Force 
Children's Hospital of Los Angeles - Liaison for symptom assessment tool used by local schools, provided nursing staff to support on-site vaccination clinics at area schools 
City of El Segundo - Elected Officials and Chamber of Commerce 
City of Hermosa Beach - Elected Officials, Chamber of Commerce and Senior Department 
City of Manhattan Beach - Elected Officials, Chamber of Commerce and Senior Department 
City of Redondo Beach - Elected Officials, Chamber of Commerce and Senior Department 
City of Torrance - Elected Officials and Chamber of Commerce 
Federal Emergency Management Agency (FEMA) - Liaison for Request for Public Assistance 
Harbor College Nursing Program - Liaison for COVID-19 Testing Site 
Hermosa Beach City School District - Superintendent and Staff 
South Bay Joint Information Center (JIC) - Liaison for communication and messaging 
Los Angeles County Department of Public Health and Health Services - Liaison for COVID-19 Testing Site 
Los Angeles County Fire Department - Liaison for COVID-19 Testing Site 
Manhattan Beach Fire Department - Chief Knabe- Liaison for Vaccination Site, fire personnel serving as vaccinators at vaccination clinics 
Manhattan Beach Unified School District - Superintendent and Staff 
Mount St. Mary's University Nursing Program - provided student nurses and faculty to support COVID testing site and vaccination clinics 
Palos Verdes Peninsula Chamber of Commerce 
Providence Little Company of Mary Hospital - Liaison for COVID-19 Testing Site 
Redondo Beach Fire Department - Chief Issac Yang- Liaison for Vaccination Site, Jason May- Liaison for DOC, fire personnel serving as vaccinators at vaccination clinics 
Salvation Army - Liaison for senior food donations, COVID-19 testing, and flu vaccinations 
South Bay Galleria - Liaison for COVID-19 Testing Site 
South Bay Family Health Care – Partners to run a vaccination site with BCHD at 514 N. Prospect Ave., Redondo Beach, CA 90277 
South Bay Pharmacy – Partners with BCHD to assist with distributing the pharmacy's vaccine allocation 
Torrance Memorial Hospital - Liaison for DOC Chief Medical Advisor 
UCLA Health — liaison for COVID-19 testing 
USC Schwarzenegger Institute - Liaison for seroprevalence research 
Youth Advisory Council - Liaison for COVID-19 health & safety campaign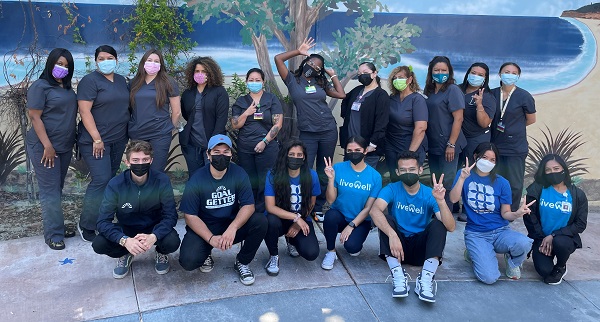 A personal thank you to over 500 individuals that served as volunteers, community partners and BCHD employees supporting BCHD COVID relief efforts:
Gary Abeyta
Amy Abramson
Jessica Accamando
Aidan Acuff
Racine Acuna
Elvia Adame
Desiree Aldapa
Michele Alfano
Nicholas Algiers
Ryan Allee
Krista Allen
Anna Amador
Tiffany Amith
Alejandro Amparan
Melissa Andrizzi-Sobel
Brad Angle
Sid Attam
Isabel Ayson
Elizabeth (Beth) Baas
Angela Babiszewski
Angela Bacon
Maryann Bailey
Jennifer Baird
Tom Bakaly
Jennifer Baldocchi
Mishell Balzer
Howard Barker
Charlotte Barnett
Donna Barr
Lee Barr
Dawn Barry
Kathy Barry
Julia Bassine
Mark Bastarache
Jason Bautista
Lisa Becker
Catherine Bem
Sheri Benator
Farrah Benedict
Francesca Benfanti
Cris Bennett
Chris Bentajado
Jolee Bentley
Penny Berry
Violet Betancourt
Priya Bhatia
Nancy Bhatt
Michelle Bholat
Nicholas Biro
Ilona Bisenieks
Karen Blanchard
Maha Boulos
Megan Bowers
Jason Boxer
Elissa Braitman
Samuel Braitman
Karen Brandhorst
Carrie Bravick
John Brayton
Susan Brilliant
Melanie Bronstein
Emily Brosius
Emi Brown
Hazel Brown
Jim Brown
James Brown
Kay Brown
Debra Browne
Rebecca Bruhns
Erica Buck
Lisa Buckley
Jan Buike
Don Burrow
Megan Burrow
Terri (Mary) Burschinger
Linda Cabibbo
John Campbell
Teri Cannon
Cindy Carcamo
Sam Carcamo
Barbara Carlson
Robert Cashion
Cynthia Catalan Hernandez
Greisy Catalan Hernandez
Gillian Cato
Kevin Chan
Juliet Chan
Katherine Chan
Tim Chapman
Madhu Chatwani
Emory Chen
Frank Chiella
Leanna Ching
Donna Chiodo-Guthrie
Eric Chiu
Kc Christensen
Murphy Christian
Lisa Christman
Noel Chun
Kelvin Chung
Hearee Chung
Ria Cleland
Theresa Climaco
Kevin Coffelt
Judith Cole
Jadelynn Collins
Adela Cornejo
Marie Corr
Carmen Cortes
Kimberly Crawford
Lakeshia Crosby
Rani Crosby
Marcie Cullen
Brittany Dafesh
Rosalie Dalrymple
Hugh Daniels
Susan Darcy
Bonnie Darrow
Howard Darvey
DeeAnn Davis
Kurt Davis
Carmen Dawson
Jeff Dawson
Joan Day
Marcia Delma
Gina Derosa
Kina Desai
Tom Desmond
Darcey Diaz
Leslie Dickey
April Diedrich
Jane Diehl
Christina Dier
Stephen Dilag
Joseph DiMercurio
Kelly Dinisco
Paula Dobin
Carolina Dorado
Mary Dover
Mary Drummer
Simrit Dugal
Thomas Duralde
Joan Edelmann
Shirrell Edey
Colleen Egan
Kate Ekman
Patricia Ellis
Lourdes Escalona
Celia Estrada
Tana Evans
Shannon Faherty
Julie Fairbanks
Joey Farrales
Christine Felger
Jasmine Felix
Elizabeth Figueroa Garcia
Howard Fishman
Raymur Flinn
Jac Folkert
Mary Jo Ford
Cindy Foster
Celia Foster
Jay Foster
Lyman Fox
Katie Francis
Betty Franco
Maribel Franco
Jamie Fresques
Denise Fucci
Brian Fuentes
Kim Fukumoto
Desiree Galassi
Karen Galati
Diana Garcia
Teresa Garner
Amber Garrett
Matt Garth
Lisa Gaudio
Moe Gelbart
Noah Geller
Steve Gerhardt
Ellen Gilman
Hamid Gogerdchian
Debbie Goldberg
Stephanie Goldman
Susan Golleher
Mayra Gomez
Carrie Gonzales
Susan Goodlerner

Mely Goodman
Clarissa Graves
Virginia Green
Barbara Grotts
Suyasha Gupta
Dee Gustafson
Sean Guthrie
Fatima Gutierrez
Solange Haaland
Teresa Haddad
Carol Hahn
Umme-Aiman Halai
Rachel Halford
Lora Hallberg
Debbie Hannon
Jim Hannon
Mary Hannon
Kathryn Hansen
Marsha Hanson
Michael Harris
David Hart
Chris Hatanelas
Hanan Hawa
Dennis Heck
Julie Henderson
Nancy Henderson
Kathy Herbers
Cristina Hermann
Jennefer Hernandez
Whitney Hernandez
Cynthia Herrington
Janette Hicks
Cristan Higa
Joseph Hocking
Susan Hodgson
Jill Hoffman
Niki Hoffmann
Helen Holscher
Katarina Holstein
Abigail Horrar
Layne Horton
Jason Hove
Annie Janae Hu
Andrea Hughes
Nancy Huh
David Inouye
Katherine Inouye
Dan Inskeep
Victoria Ivons
Steve Izant
Xochitl Jaime
Alan Janson
Jackie Jedynak
Alex Jeffords
Vijay Jeste
Celeste Jijon
Carol Johnson
Chuck Johnson
Allison Joiner
Ann Jones
Debra Jones
Aja Jordan
Susan Jordan
Camille Jorenby
Marie Evangeline Jorge
Amy Josefek
Serena Josel
Joy Jurena
Tami Kachel
Cheryl Kahnamoui
Priscilla Kang
Margaret Karwecki
Kimberly Katsuyama
Sharlene Kawada
Yuko Kawasaki
Hailey Kayatta
Dr. Clayton Kazan
Jeannie Keasler
Michael Keegan
Dolores Keeling
Linda Keenan
Max Kelber
Wendy Keller
Carrie Kerster
Bill Kim
Jee Kim
Kelly Kim
Edwina Klein
Cindy Klewan
Teresa Klinker
Dominik Knoll
Stephen Koch
Laurie Koike
Leslie Kolczak
Grace Kollar
Samiksha Komatireddy
Martha Koo
Peggy Kramer
Christy Kubitz
Alice Kuo
Ana Kyle
Jo Labor
Tommy Lam
Lisa Larson
Caroline (Carly) Lawrence
Kerianne Lawson
Charlotte Leblanc
Valerie Lee
Joah Lee
Debra Letwin
Jacqueline Lew
Bernadette Lewis
Sherry Lindemann
Michael Lindsey
Claudia Lindwall
Cindy Liu
David Liu
Donna Lombardi
Francisco Lopez
Timilie Losq
Deborah Lotstein
Dariel Louie
Teri Lovano
Jean Lucio
Don Luke
Julie Lumbao
Denise Luna
Nicole Lunde
Marilyn Lyon
Patti Mahoney
Jose Mancera
Bara Mann
Fred Manna
Cheryl Mansfield
Naomi Marroquin
Debbie Martin
Michael Martin
Jane Mashiko
Chief Jason May
Cathy Mccurdy
Sarah Mcgoldrick
Melissa Medina
Azalea Mejia
Cynthia Mendoza
Jacqueline Mendoza
Tamara Mendoza
Victoria Mercer
Deiva Meyyappan
Jon Michaels
Esa Michaels
Cayleigh Milam
Deni Mileski
Peggy Miller
Jennifer Modisett
Nahid Mohammadifar
Lindley Montoya
Keith Montoya
Rita Moorman
Xitlali Mora
Briza Morales
Jasmine Morales
Breanne Morales
Valerie Morales
Lawrence Moreau
Melinda "Mindy" Morin
Valerie Morton
Aaron Mosqueda
Marni Murez
Lilly Murphy
Christian Murphy
Sue Murray
Amy Myers
Lauren Nakano
Ronnie Nakasone
Audra Narikawa
Kim Neglia
Teri Neustaedter
Christine Ng
Lena Ng
Clement Ng
Julie Ngo
Brenda Nguyen
Lyllian Nguyen
David Nguyen
Genevie Nguyen
Katelyn Nguyen
Joe Odonnell
Elle Oliver
Monika Olmos

Garry Olney
Sandra Omar-Amrani
Cory O'meara
Leslie Oram
Edna Osepans
Colleen Otash
Tia Owens
Edith Pacheco
Josh Pagano
Zach Painter
Ioana Pal
Jane Park
Lea Park
Jim Parkman
Janet Payne
Ilene Pendleton
Vienna Perez
Carla Persell
Laura Petros
Yuliya Pigrish
Petra Polinkova
Alexandra (Sasha) Popov
Kenia Portillo
Vanessa Poster
Wayne Powell
Ilene Pratley-Watson
Karl Primm
Andre Psaradelis
Lisa Pulver
Jennifer Pusateri
Marie Puterbaugh
Marilyn Rafkin
Bill Raj
Tom Ram
Michael Ramirez
Daniel Ramos
Jazmin Ramos
Danielle Ramos
Rosalie Rapas
Brian Regan
Richard Reid
Patrice Reiss
Alexa Ressler
Ricardo Reznichek
Tiana Rideout-Rosales
Gloria Robinson
Jeff Robinson
Kia Robinson
Patrice Rodgers
Jessica Rodriguez
Doug Rodriguez
Marisol Rodriguez
Cassidy Roosen
Joanne Rose
Dorothea Rosen
Jerrianne Rousseau
Charlotte Rowley
Akshara Roy
Gina Ruben
Scott Ruiz
Brecken Runquist
Tanya Rutter
Hiro Saito
Russ Samuels
David Sanchez
Kim Sanchez
Mara Santos
Sierra Sargent
Salina Savala
George Schmeltzer
Joy Schmidt
Francoise Schmutz
Liz Schoeben
Manuela Schraner
Elan Schultz
Lois Schunk
Lauren Schwake
Deanna Sears
Sunshine Settles
Vicki Shaffer
Ami Shah
Mona Shah
Tim Shank
Jessica Shepard
Ellen Sherman
Gene Sherman
Cindy Sheu
Fahad Siddiqui
Alejandra Sierra
Tami Simmons
Barbara Skas
Sheila Sluk
Nicole Smilth
Dan Smith
Dan Smith
Kathleen Smith
Annette Smith
Carol Smith
Emma Smith
Kathleen Smith
Mary Smith
Rolando Sosa
Cynthia Spear
Kitty Spencer
Jodi Springer
Jennifer Steffen
Mary Ann Stein
Amy Steinbacher
Ali Steward
Katharine Steward
Sara Stienecker
Kim Stillwell
Joan Stolba
Katherine Stone
Kelly Stroman
Joanne Sturges
Carol Sukimoto
Kelly Sultemeier
Jacqueline Sun
Vesta Sung
Robert Suppelsa
Soraya Sutherland
Stephanie Sutton
Monica Suua
Roshawn Swazer
John Syzmanski
Jacklynn Tagliaferro
Dennis Takahashi
Toshi Takehara
Elizabeth Tanner
Cheryl Tarango
Deborah Teel
Kathleen Terry
Sogia Thach
Jesse Thomas
Lindsey Thomas
Alex Thomas
Richard Thompson
Jennifer Trask
Edward Tseng
Frances Tso-Yee
Brooke Tuley
Michael Tung
Melinda Turkolu
Kit Turman
Andrea Valadez
Joseph Valenzuela
Anne Valenzuela-Smith
Elaine Vandermay
Rachel Vanlandingham
Charlie Velasquez
Brandy Villanueva
Kambria Vint
Megan Vixie
Tyler Wade
Kathy Wafer
Paul Wafer
Julie Walden
Umeko Walker
Rawn Wanamaker
Laura Warren
Caren Weiner
Ken Weiner
Wendy Weissman
Christian Wendland
Carole Westberg
Sydney Whitaker
Patricia (Tricia) Whitehill
Lance Widman
Allie Williams
Greg Williams
Amanda Williamson
Julie Wilner
Kirstin Winkler
Sunni Won
Joanna Wong
Kim Wong
Sherah Wyly
Issac Yang
Jennifer Yee
Nava Yeganeh
Samantha Yoon
Karen Yost-Heck
Dan Zamsky
Zach Zawacki
Zoe Zimmerman
Kathleen Zinser
Lisa Zucker