The holidays can be a difficult and lonely time for older adults and adults with disabilities in our community. But it doesn't have to be that way. Each holiday season since 1998, friendly volunteers have delivered gift bags filled with practical and fun gifts to 250 beach cities seniors and adults with disabilities, many of whom are homebound or live in isolation.
2020 has highlighted the need to be prepared for emergencies. With the help of various organizations and community members, we have raised funds to provide an emergency kit backpack to each holiday gift bag recipient that contains three days of essential supplies. Additionally, recipients may receive grocery gift cards, stamps, a BCHD face covering, hand sanitizer, a 2021 calendar, healthy snacks, and a holiday card created by members of our community.
While the Holiday Gift Bag project will be different this year, we still need your help to continue this wonderful tradition.
What People are Saying About Holiday Gift Bags

"This is one senior here who really appreciates all that you do for seniors. Your organization goes the extra mile" -Nathan C., Client

 
Volunteer
Volunteer by decorating a holiday card. Due to local health orders and the vulnerable population we serve, we won't be able to offer the opportunity to volunteer delivering bags as we have in year's past – and hope to again in years to come. BCHD staff and essential-service volunteers will be delivering bags following strict safety protocol.
Instead, we are asking the community to assist with this project by coloring and decorating a holiday card to be inserted in each bag. TO participate:
Select one of the cards below. Print on 8.5x11in paper and fold in half.
Decorate the outside of the card. Use colored pencils, markers, glitter, etc. (get creative)!
Write a nice, warm message on the inside of the card. Please refrain from writing about politics, religion, and specific holidays- ie. Christmas, Chanukah, etc. as some people may not celebrate that holiday. Below are examples that can be used:
"Happy Holidays and warm wishes for the New Year! Thank you for being a part of our community."
"Cheers from your fellow beach cities community members. We with you a very happy holiday season and a peaceful and prosperous New Year!"
"Thinking of you this holiday season and wishing you all the happiness throughout the coming year!"
Don't forget to sign the card! You can use just a first name, and if you have children assisting it may be nice to include their age as well (e.g., From Christine, Age 5)
Include an envelope (if available). You may enclose each card in a greeting card envelope which can also be decorated, however, please do not seal the envelope as all cards will be reviewed prior to being placed in the holiday bags.  BCHD will provide envelopes to cards that aren't enclosed in an envelope.
Return cards to Volunteer Services by Tuesday, December 1, 2020. This can be done via mail or at our drop off location:
Mail: Beach Cities Health District              
Attn: Alejandra Sierra                                    
1200 Del Amo St.                                             
Redondo Beach, CA 90277
* If mailing please mail a few days prior to 12/01 to ensure we receive the cards in time.
Drop Off:  1200 Del Amo St. Redondo Beach, CA, 90277 (place in our mailbox located outside our office by the front door, Attn: Alejandra Sierra)
Donate
Please consider making a donation. This year, each bag will cost approximately $60. All donors will be invited to contribute to a virtual "In Honor of" message board in lieu of paper cards. Donate $100 or more by December 1st and your organization will be acknowledged in a local newspaper and in a letter that goes to all gift bag recipients.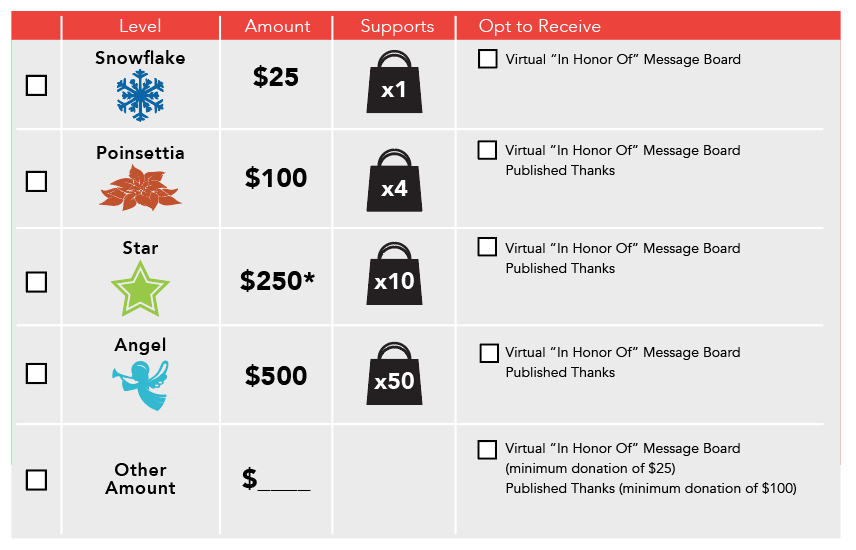 YES! I'd like to bring cheer to an older adult or adult with disabilities in the Beach Cities this year by sponsoring the following:
For other contribution, please click below donate button:
Thank You to Our 2019 Donors
For helping spread cheer through Beach Cities Health District's Holiday Gift Bag program. We would like to thank the hundreds of volunteers and donors who helped deliver 250 holiday gift bags to older adults and adults with disabilities in the Beach Cities the past holiday season.