Crisp Veggie Fries Baked Zucchini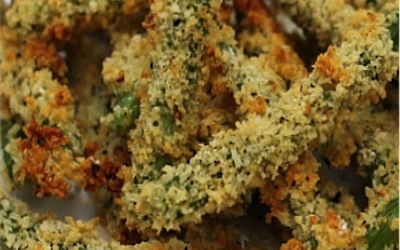 INGREDIENTS
1 cup of green beans
2 large zucchini
½ cup toasted wheat germ
2 cups whole wheat panko
¼ cup olive oil
2 large eggs
2 tbsp. water
DIRECTIONS
Preheat oven to 425 degrees.
Whisk 2 eggs and water in a small bowl.
Cut the edges off of the green beans.
Cut the zucchini into ½ inch wedges.
One at a time, dip each zucchini wedge and green bean into the wheat germ and coat in egg.
Cover each dipped zucchini wedge and green bean in panko.
Once all zucchinis wedges and green beans are covered, place a single layer on a baking sheet.
Drizzle olive oil over the zucchini wedge and green beans.
Bake for 20 minutes. Flip after the first 10 minutes of baking.